A refined home-made cuisine
OUR PHILOSOPHY OF HAPPINESS
A QUALITY, GENEROUS & FRIENDLY CUISINE
Notre restaurant propose une cuisine 100% Faite Maison, avec des produits frais & de qualité, raffinée
entirely prepared by our Chef de Cuisine and his Brigade.
Eden Flow, a restaurant that you choose, Without Chance.
The Frame is an invitation to travel,
A gastronomy with a Mediterranean flavor,
A team, at your service and attentive.
For a Moment of sharing & conviviality combining Flavor & Know-how in an exceptional setting.
Let yourself be lulled by the rhythm of the seasons, at Eden Flow, nature fills you with happiness.
THE FLOW ASSORTMENT
by Mona Collection
"Enjoying the present moment"

This is the philosophy of the Flow Assortment, Our restaurants dedicated to culinary pleasures and hospitality.
A true pillar of our culture, gastronomy occupies a special place in our lives. With our entirely homemade cuisine, based on carefully selected fresh products, we strive every day to be the relays of this know-how and this beautiful tradition.
Our passionate teams strive to provide each guest with a moment of relaxation and fulfillment; a Flow moment ...
SOURIRES, JOIE & BONNE HUMEUR
LE Réveillon du nouvel an à l'eden flow
Clôturer l'année en beauté à l'Eden Flow, dans un cadre intimiste & privilégié
Une équipe joyeuse et dynamique à votre service,
Un lieu idyllique pour une soirée inoubliable,
Un menu gastronomique en 6 plats,
La douce voix d' Elena Kalnova pour une agréable soirée musicale,
Un délicieux moment à partager en famille ou entre amis !!
Le 1er janvier au matin, retrouvez notre Brunch pour démarrer cette nouvelle année tout en gourmandise !
Tous les jours entre 16h et 19h
Pendant ce mois de décembre entre 16h et 19h, venez vivre l'Happy Hour by Eden Flow !
3 bonnes raisons de venir passer sa fin de journée à l'Eden Flow :
Pour 1 bouteille de bière achetée, une bouteille de bière offerte (à choisir parmi notre sélection, offre valable aussi sur les softs),
Une bonne ambiance musicale assurée par Elena Kalnova,
Apprécier le coucher du soleil dans un cadre exceptionnel avec vue panoramique…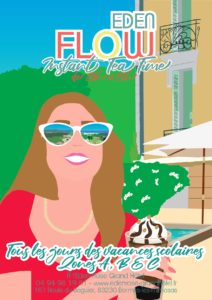 UN moment cocooning à l'eden flow
Tous les jours pendant les vacances scolaires de 15h à 18h,
Pour l'achat d'une boisson chaude nous vous offrons une gourmandise de notre Chef pâtissier !
L'occasion idéale pour clôturer votre journée en beauté à l'Eden Flow en savourant une boisson chaude, le tout dans une bonne ambiance musicale !
Votre rendez-vous mensuel
Quoi de mieux qu'un cadre exceptionnel pour mêler petit déjeuner (breakfast)  et déjeuner (lunch) entièrement concocté par notre chef & sa brigade… Un buffet gourmand & à volonté à ne pas manquer !
Notre prochain Brunch aura lieu dimanche 30 octobre, à partir de 12h !

Venez partager avec ceux que vous aimez un délicieux Brunch à l'Eden Flow !
Les tarifs de nos Brunchs :
55€ par adulte
25€ par enfant (de moins de 12 ans)
Gratuit pour les moins de 5 ans/adulte présent
100% HOME-MADE REFINED CUISINE
Our engagement : : 
Local products, Organic, Fresh, of Controlled or Protected Origin, French and Seasonal ... The products are selected with great care. They are here "Kings". We welcome and sublimate them with respect.
Each daily arrival animates the basis of reflection and creativity of our Chef. Its dishes highlight the Mediterranean culinary heritage in an exceptional setting inviting to travel ...


TO ENJOY THE PRESENT MOMENT EVEN MORE
BEAUTIFUL SHADED TERRACE!
À chaque repas ou encas de la journée, quel meilleur endroit que sous les pins méditerranéens face à une mer azur pour apprécier les inspirations du jour de notre équipe.
Un plat aux saveurs provençales du chef, un cocktail signature de notre barman ou une jolie mignardise du pâtissier… même un simple café saura vous combler !
APERITIFS, EVENINGS, AFTERWORKS
The place where we love to relax, stroll, contemplate and lose ourselves in thought.
Perfect for having a drink at any time of the day, here you can also get together with friends or family in a pleasant atmosphere, comfortably seated, facing a magical view.
Sip a subtle cocktail, a classic, a vitamin based on fresh fruit, or even a tailor-made creation ...
Our bartender competes for originality to satisfy you. 
C'est la garantie d'un instant chaleureux & rafraichissant !
FIRST FLOW IN THE MORNING
Start your day with a real breakfast, a French Art de Vivre ...
Take the time and enjoy a full buffet of sweet & savory dishes at will.
For your well-being, discover an exceptional offer: quality products, fresh products, homemade, organic, gluten-free, healthy and gourmet ... 
Every morning is a moment of Sweetness & Delight. 
You will find with us,
Un Rituel dont vous ne pourrez plus vous passer !
Our Unmissable Accomplice Breakfasts.
Quel bonheur de recevoir l'une de nos formules thématiques conçues pour être consommées au lit, en amoureux.
 Gourmet & Romantic awakening,
Go face to face and have a great day.
Besoin de partir vite en excursion ? Le petit déjeuner n'est pas votre tasse de thé ?
Nous avons la solution ! Une boisson chaude, un jus de fruits, 3 petites viennoiseries et c'est parti !
UNE RESTAURATION QUI S'ADAPTE à TOUTES LES ENVIES
OUR SMALL SNACKS TO ENJOY ALL DAY
L'Eden Rose Grand Hôtel offre à ses convives une multitude de lieux de vie.  En pleine nature, au bar lounge, ou même en bord de piscine, chacun trouvera son cocon.

Aucune limite dans la propriété pour vous servir, aucune limite horaire pour la gourmandise. 

Fall in love with our sweet or savory snack menu available at any time of the day. 
À CHACUN SON ÉVÉNÈNEMENT !
OUR TEAM IS AT YOUR DISPOSAL TO ORGANIZE YOUR EVENT!
Discover our website dedicated to the organization of events
Online personalized quote